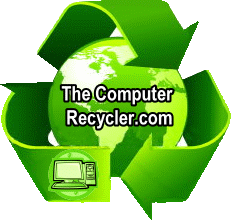 The Computer Recycler is a Free Recycling service
brought to you by The Computer Works.
*****NOW Located at 38 New Britain Ave (rear) Rocky Hill CT 06067
100% Free

- No charge for Home users, businesses, or educational institutes.

100% Safe

- Your private data is completely destroyed, so there is no risk of your data finding its way in to the wrong hands.

100% Compliant

- We're on top of the changing laws and are fully compliant with state and federal regulations regarding eWaste and the proper disposal of toxic and hazardous materials.
Click Next to find out what we accept... OR scroll down for DROP-OFF TIMES !